Durability and strength: the foundation of the Elino Concept
Made from steel panels, the Elino pool structure is designed to stand the test of time. The materials have been carefully selected to adapt to the climate and its durability and strength are without equal. Thanks to its 15-year warranty, you can enjoy a pool with classic lines and timeless allure, summer after summer!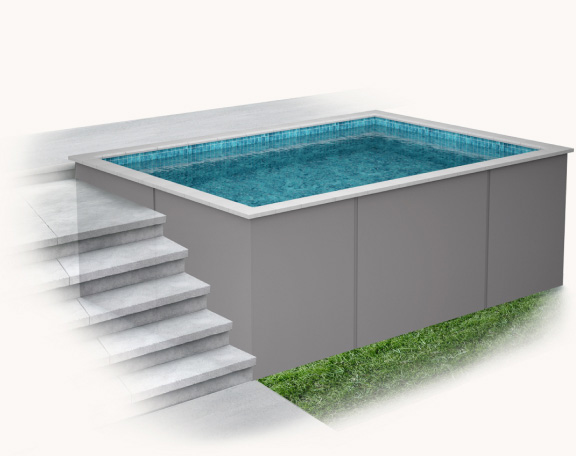 A versatile structure suited to all terrains!
In addition to offering a sleek, modern design, Elino is the ideal solution for installing happiness in your yard, regardless of the terrain. Ideal for rocky ground or steep slopes, its linear shape is also designed to adapt to more limited spaces or to fit into a corner lot.
Stylish, on-trend siding
Sophisticated style and detail are at the very heart of our distinctive design! Elino offers a wide array of modern and fashionable exterior coverings: natural stone, aluminium panels, pre-finished Canexel-type siding, etc. Each of these coverings is available in superb colours and is designed to match the architecture of your home. Elegance aside, these durable materials will also solidify the structure and increase the value of your investment. Your dream yard is taking shape!
Great value for your money
Elino exemplifies the art of taking it easy, without compromise! Now, more than ever, style blends seamlessly into your décor at a price that will have you grinning from ear to ear. Exceptional value is yet another feature of this innovative concept.
Thanks to its wide selection of siding, its remarkable manufacturing quality and its ultramodern design, your future pool will certainly make waves with your family and friends!
Jump into the satisfaction zone!
Unique, elegant and robust.

We bought an Elino pool last spring and we are truly satisfied with our backyard addition. In our decision-making process, Jeremy answered our questions  in a clear and precise way. He definitely knows his product. He also gave us good advice. The Elino website helped us to choose what was best for our family.

Despite the summer temperature we had (tornado watch nearly every week), the Elino pool structure was robust enough to hold in place. Briefly, it is an ingenious concept, innovative and only Wow comments from our neighbors and visitors. I have often shared your website so people can discover your product.

Modern concept and perfect for small backyards. Solid pool and it gives the wow effect. Ideal for entertaining.

We are happy with our Elino pool and we truly love its look. The Elino concept is adapted for any slope and difficult access backyards like ours. It also offers peace of mind with its robustness.

Great product, installation was quick, the quality of the product is very impressive. We will enjoy this pool with our family and friends for a very long time.

I had the Elino installed summer of 2021. I so highly recommend this pool, its so spectacular in our backyard. The compliments we get are continuous.

A robust and elegant pool, we love our new pool.